Janine Anthony is a Nigerian sports journalist who has reached what most people in the industry would consider the pinnacle of sports journalism.
She worked for the British Broadcasting Corporation (BBC) as a presenter, reporter and producer as well as Premier League Production and Sky in a similar capacity.
Additionally, she's the founder of the pioneering African women's football network
Ladies March
and in 2019, made history by becoming the first-ever African female commentator in a major men's tournament at the African Cup of Nations in Egypt.
Currently, she works at TikTok as the Sports Partnership Leads for Sub-Saharan Africa.
Growing up, she never imagined that she'd live her dream. Like so many women around the world, the thought of becoming a professional footballer or even working in sports was never encouraged.
Her parents more so her father disapproved of her desire to become a professional footballer which partly explains why she studied Marine Biology. So how did she get in?
"I would say that I stumbled into the sports industry after my initial dose of heartbreak. As a child, I wanted to play professional football. I firmly believe that dreams are fuelled by representation and when I was barely five, I always watched the Nigerian women's football team play in tournaments.
"I loved the fact that they looked like me and knew I wanted to be like them but when I told my parents, they disapproved, particularly my dad. So without the support, I decided not to pursue it.
"I was out of football for a long time until I joined university. When I was about to finish my first bachelor's, I got into analysis and debates around football and people really recommended that I get back to it. I wasn't keen but I was nudged towards that direction and deeply encouraged to get into the industry.
"One of the heads of sports at Hot FM, a Nigerian radio station, invited me over and told me that I brought a different vibe and he wanted us to do things differently. I reluctantly joined and as many would say, the rest is history."
Ladies March
When she was starting out, there weren't as many women in the sports industry. As she describes it,
"It was a cool thing to have women because a huge part of that was about marketing. People were just coming to terms with the idea of diversity and inclusion of women and trying to see what that would look like."
This aged well because "people realised that women bring onto the table just as much as men do."
With that, Janine spotted a gap in their sports coverage as it was heavily tilted toward events with global appeal. At the time, she was on a radio show called Ladies Match which is where the idea of her own network - The
Ladies March
- came from.
"I realized that we were a bit restricted on the scope of sports we could talk about - the premier league and basically events that had a global appeal, especially when it involved women's sports. Somehow we weren't made to feel confident talking about local sports.
"I found that to be very problematic. I approached my colleagues about this opportunity we had to make an impact through women's football and that's how Ladies March started."
"Another motivation was improving the availability of information. It's interesting that I had to reach out to people in Australia, America and Canada to get information about the game. I was envious of what they had because what we had in Africa was few and far in between and probably not as updated and this was an opportunity to change that."


The name Ladies March was also very intentional.

"Ladies March wasn't just about playing a football match. Yes, it was about actual women's football but it was also about its advancement that's why we use the name March. It signifies that not only women are playing football (the match) but they are also moving forward (to march) in the sport."
The network began with only four members and has since expanded to accommodate writers from around the continent with over 20 people involved. Representation is a key factor as the site looks to amplify grassroots as well as top-level leagues in Africa. All this began with minimal resources.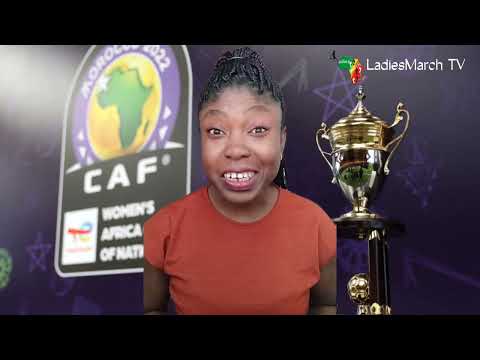 "It took personal funding, passion and dedication from the team. For many years, we didn't make any money but this is something we really believed in. We wanted the stories of our women to be told by us. No one could do that the way we could and no one could create the impact we wanted but for us."

The impact was obvious. At a time when information about women's football was scarce, Ladies March filled the gap. It created the blueprint of women's football coverage and Janine got a first-hand experience of the impact of their work.

"One time I was in a press conference that involved a high-profile team. I had a question to ask so I introduced myself and mentioned the publication I was working for. We were surprised that they followed us and after the presser, they told us they used our website to scout opponents. That was amazing to hear but also showed how dire the situation was and still is."

Since then, the doors have opened not just for Janine but also for women's football coverage.
"When we started, only a handful of us covered the sport and I didn't know any person who made a full-time living covering the sport. It was impossible as women's sport is at the bottom of media coverage priorities, so it was great to get the word out and to see how the space has been well developed. It might not be the best but it's much better than it previously was.
"Women's football space is now saturated and more women are still coming in. People have run with it, given its richness and have made women's football become more enviable. Independent reporters and writers who've worked tirelessly with little resources have forced the mainstream media to pay attention because regardless of their presence, the coverage still goes on."
Even with its growth, tapping into and developing this platform has not been without challenges. Janine shares.
"Underestimation by people about your competence to do the job, little resources that can't sometimes cover stories you'd want, people in authority who ask for sexual favours, lack of remuneration with people giving up because there's nothing to show for all the work and the fact that at times you can't get to where you want to be in time or go to certain places because of your own safety as a woman. Despite that, we keep going because that in itself is a sacrifice."

With that, YAZA gets one last word from a very passionate Janine.
"Your dreams are valid. You can be everything you want to be and even more. It's there for you so just reach out. No self-pity. Get mentors, follow their work, and use free resources to start yourself off. Be willing to get feedback because not everything is an attack on you. Be as diverse in your approach and create your own unique selling point. Opportunities are bound, target them, improve yourself, grow, be strategic and you'll blossom."
Read More:
WSM Can Change How Women's Football is Perceived