Up until the rise of the Kardashians and their make-up empire, I had no idea that people contour their faces. The only contours I knew were on the map and I learnt about them in geography back in high school. However, now I know a thing or two about it and I would like to tell you that it may seem intimidating but you can actually rock the hell out of it. I mean, I was late to the game and I've joined the millions of women making an art out of creating "fake" chiselled cheekbones and looking like you have a face that goes to the gym… but uhm in the most flattering way possible.
Okay. So, like most people, all the images depicting the process of contouring have made me give up before I manage to gather enough
courage
to even try. All the tribal looking light brown and dark brown lines always make me feel inadequate and I'm pretty great at all things makeup. With this in mind, I set out on a young research mission to see if all the beauty bloggers and MUAs' combined
wisdom
can't help us get on board with the trend.
If after reading some of the information gathered and watching some of the YouTube videos I will add to this piece, you still feel like
contouring
and highlighting is not for you… That is also okay. My hope is to get you to the point where you at least want to try.
So let's start right at the beginning.
Pretty Designs
defines contouring and highlighting as a beauty trend that "involves applying darker matte (contour) and
lighter
shimmer (highlight) makeup to certain specific areas of your face." Contouring has gained great popularity in recent years because it helps make parts of your face stand out and appear slimmer and more defined - see that gym analogy?
Anyway, highlighting helps accentuate the existing glow of your face where the sun naturally hits it and make it seem as though it is illuminated from within. Just like
magic
.
Things To Know
Due to the fact that human beings are unique, all the tutorials in the world will not be able to tell you which shades of foundation, concealer etc. work for your specific
shade
and texture of your skin. This is your first homework and unless you are a makeup guru or somehow already have this info on hand, then it is best to work in a cosmetic store and ask the assistant to help you figure it out.
While you are there, ask for the right tools (like which brushes work best) and which products you should invest in. Ask about
undertones
… from what I hear knowing the right undertone is the difference between a face "beat to the Gods" and looking like you were "beat by the Gods".
Other Things To Note
As suggested by geography and the actual meaning of contours in that context, this beauty trend is all about lines. You can't just
randomly
put dark shades and light or shimmering shades all over your face.
Now, don't be alarmed but failure to adhere to this will leave you looking like a patchy, blotchy or greasy and oily clown. Again, no pressure.
The Actual Deed
Follow what you see in the millions of "cheat sheets" available on Pinterest because no matter the variations you may come across the
basics
are the same.
Contour should be applied on the sides of your nose, under your cheekbones, around the
top
of your forehead, and the bottom of your chin and jawline.
While, a highlighter should be applied down the bridge of your nose, above your cupid's bow, on the top of your cheekbones and temples, under your brow bones, and in the inner corners of your
eyes
.
A step by step guide on how to contour to perfection will be in the Yaza Beauty section soon. For now, this video may help: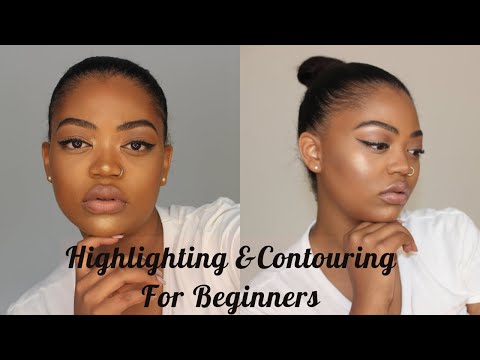 Contour Filter